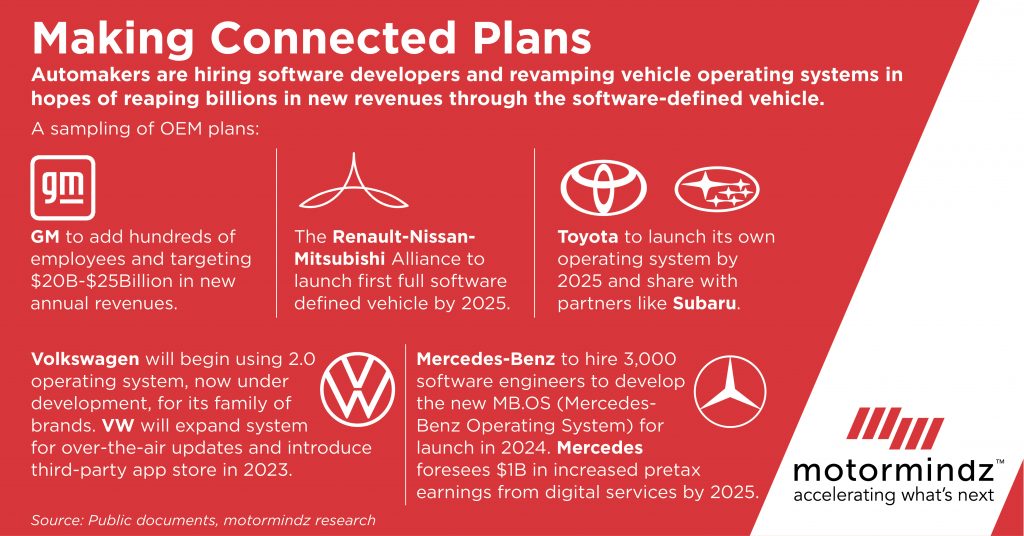 Automakers set lofty, multi-billion-dollar goals to grab their share of connectivity revenue
By Dave Guilford
After years of pursuing vehicle connectivity, the automotive industry appears poised to reap huge rewards.
Fully "software-defined" vehicles should start to appear in the next few years, potentially disrupting the auto industry on a scale rarely seen. Motor vehicles, the thinking goes, will become rolling hubs of commerce, spewing data for marketers and enticing consumers into lucrative subscription services. This surge of new business is expected to produce hundreds of billions of dollars per year in new revenue.
But who will get the payoff?
As their products morph into connected bazaars, traditional automakers will fight to dominate the action. But aggressive, cash-rich consumer technology players will push into the space, too.
Wringing the full potential out of the software-defined vehicle will require OEMs to excel at a new style of marketing and customer relationships, enter into partnerships with some tech players and battle others, and reconceive their vehicles.
Starting in 2025
Industry experts foresee $400 billion annually in value creation, including internal efficiencies such as over-the-air warranty repairs. Of that, new revenues would total $250 billion to $270 billion, according to Sanjeev Addala, senior partner for digital and software transformation at motormindz, a global automotive consulting firm.
"By 2025, we will start seeing revenues in connected vehicles for software products," Addala says. "I think it starts in 2025, with an exponential curve to 2030."
That prospect has sent automakers and suppliers into overdrive. Major players like General Motors, Ford Motor Co., Toyota, Stellantis, Volkswagen and Daimler are trying to create a new – and high-margin – business model.
Automakers' revenue projections are far from modest. One example: At Stellantis' "Software Day" on Dec. 7, the company pledged to "generate approximately 20 billion euros ($21 billion USD) in incremental volume by 2030." Other projections are in line. GM, for instance, has said it expects to boost annual revenues by $20 billion to $25 billion by 2030.
'Not a sure thing'
Greg Ross, connected car practice lead for motormindz, says attaining those revenue forecasts will require far-reaching changes. Aside from revamped vehicles, OEMs will need increased
information technology infrastructure for data communication, storage and software development, he says. Vehicle capabilities – screens, onboard data storage, onboard computing and the like – will have to grow far beyond what exists today.
Ross says "it's not a sure thing" that traditional automakers will get their desired share of the new revenues.
"Most OEMs are just dividing their market share into that as their objectives – 'That's how much we're going to get,'" Ross says.
But automakers will have to scrap with nimble, "clean-sheet" competitors from Silicon Valley, China and elsewhere, some of whom, like Apple and Android, already have systems in cars. Tech companies have set a high standard for innovation and ease of use, one that customers will bring into their vehicles along with their cell phones.
"People's expectations are being set outside of the car business," Ross says. "People expect the electronics in their cars to work as well as they do in the rest of their life."
To succeed, he says, automakers' software-based offerings will need to be "clearly better" than those of existing competitors in areas like financing, insurance, maintenance, navigation, entertainment, communication and comfort.
'A new marketing skill'
Ross, a former executive at GM's OnStar telematics unit, says the subscription services, in particular, represent an unfamiliar type of marketing for automakers.
Essentially, OEMs will function as quick-reacting direct marketers in ongoing conversation with customers, as opposed to selling them a vehicle once every three or four years.
"It implies that there's going to be a constant dialog and watching for needs that you might be able to satisfy," Ross says. "You've got to be really good at identifying these situations constantly and providing just the right product at the right price. That's a new marketing skill."
Subscription marketing involves a delicate dance to avoid being too intrusive, to understand what features customers really value, and to avoid price resistance. Ross notes recent consumer dismay at their growing collection of subscriptions, as the $5 or $10 monthly fees add up.
"Current developments in video streaming might offer an analogy," Ross says. "There are now a dozen or more streaming services available, each investing a lot of money in content, but there are apparently limits to how much money American households are willing to spend on these services, as evidenced by the recent Netflix news."
Netflix's stock price took a hit after it reported the loss of 200,000 subscribers in the first quarter, its first subscriber decline in a decade. Ross says automakers may likewise find that consumers have a limit on how much they will pay for automotive transportation, even with enhanced services.
A new mindset
To overcome this, automakers will have to develop a fine sense of what consumers really want. OEMs' track records in this regard have been mixed. GM, for example, dropped its Marketplace in-car shopping app in February. The website Market Trading Essentials reported that Marketplace "suffered from low usage rates and never grew into a full suite of features executives hoped it would."
Addala says that, more broadly, automakers need a different mindset. Traditional OEMs
tend to see software as an add-on to vehicles rather than being intrinsic, he says. Addala notes 46 percent of Tesla employees work in software, compared to about 15 percent in most car companies.
The question of over-the-air updates to fix vehicle problems illustrates the disparity. The industry's wake-up call came from Tesla in 2018, when the EV-maker remotely updated its brake software on the Model 3 after criticism from Consumer Reports.
Most OEMs are broadening their use of the practice beyond maps and infotainment to critical vehicle systems, but still trail Tesla, Addala says.
Despite the challenges, automakers have little choice but to join the fray. The software-defined vehicle offers an opportunity to escape the industry's low margins.
"If you just make and assemble the car, where is the money?" Addala says. "The software business is where the margin is. If you don't play in it, you're out of it."
EDITOR'S NOTES:
With more than 130 global automotive experts worldwide, motormindz provides strategy and execution consulting services on connected vehicles, electric vehicles, build to order, digital retailing and much more. To learn more, visit www.motormindz.com or contact Brennan Lafferty, senior vice president, strategy & business development, at [email protected].
Author Dave Guilford is a veteran automotive journalist whose credits include prominent editorial positions at Automotive News, Crain's Detroit Business, The Fint Journal and Battle Creek Enquirer