by Greg Ross, Connected Vehicles Practice Lead, motormindz
Toward Hyperconnectivity: 5 Ways to Position Your Business to Profit from Connected Car
Four well-recognized disruptive technology trends will continue to shape the automotive industry over the next two decades – Autonomy, Connectivity, Electrification, and Sharing. These trends aren't just influencing new vehicle features & specs – they're actually laying the foundation for an ecosystem shift that will fundamentally change how vehicles are sold, owned, and experienced.
Each of these trends are long lasting and interdependent. In the future, they'll be indistinguishable from each other, but currently, their levels of interdependence remain important – with Connectivity the core enabler for the others.
ELECTRIFICATION
Electrification is the major current trend of the four, receiving large portions of budgets and industry attention. But majority on-road usage is decades off – with 2030 marking only 30% market share and BEV/ICE price competitiveness.
SHARED OWNERSHIP MODELS
While some Sharing models have been around – they're still nascent to consumers. They'll continue to be reinvented and become more economically sound as Electrification and Autonomy take hold.
AUTONOMOUS DRIVING
Autonomy also receives a lot of attention – in the form of media and R&D – but it's still distant in terms of widespread usage of level 4 and 5 vehicles – also beyond 2030.
While these three trends are all independent – they all share one requirement to be successful: Connectivity.
CONNECTIVITY
Connectivity's value is created by making wireless connections through hardware & software capabilities that provide insights about drivers and vehicles. These connectivity capabilities serve as an enabler to other ACES trends.
Connectivity will provide real-time links, redundancy, and reliability needed for safety, quality, and infallibility of critical new services like OTA updates and ultimately, full Autonomy.
Connectivity links to infrastructure will enable Electrification through smart charging, and smart grid – as well as enabling V2V and V2I connections required for Autonomy.
Connectivity will provide critical infrastructure for industrial and commercial transportation Electrification which demand high power and flawless operation in very harsh environments where failure is not an option.
Connectivity will provide the location, telemetry, logistics, and fleet management of vehicles and drivers remotely – which are first steps in widespread new Sharing business models.
As Connectivity evolves to support all of ACES, it will create highly efficient networks of autonomous vehicles that move us around safely – and these are reliant on millions of new connections. As the number and density of these connections grows, Connectivity becomes Hyperconnectivity.
HYPERCONNECTIVITY
Hyperconnectivity – as defined by social scientists in 2003 – refers to the simultaneous usage of multiple modes of communication in networked societies.
We all hyperconnect daily, watching content with multiple screens, while completing additional tasks like email, text, browsing and the like.
Hyperconnectivity has also become a paradigm within computer networking that states, "anything that cancommunicate through the network, will."
The implications of this adage on network density inside and outside the vehicle, data creation & bandwidth, personal privacy, network efficiency, and value creation – are massive.
THE HYPERCONNECTED VEHICLE
Connected Car occupies the space between the world those social scientists imagined twenty years ago and our near future of cloud hyperconnectivity, full autonomy, and artificially intelligent products, systems & networks.
Over the last 100 years, the car has primarily served as a mode of physical transportation, with a few fun bells and whistles attached.
Hyperconnectivity will change all of that – and fast.
The hyperconnected vehicle is nearly here, and so is the value it will create – as a platform for informationaltransportation – that will disrupt all corners of automotive.
BEYOND THE DATA: THE VALUE IS IN THE CONNECTIVITY
With annual industry investments into Connectivity over the next five years reaching the hundreds of billions, and vehicle installations reaching the hundreds of millions – the distribution network for this new value is coming of age.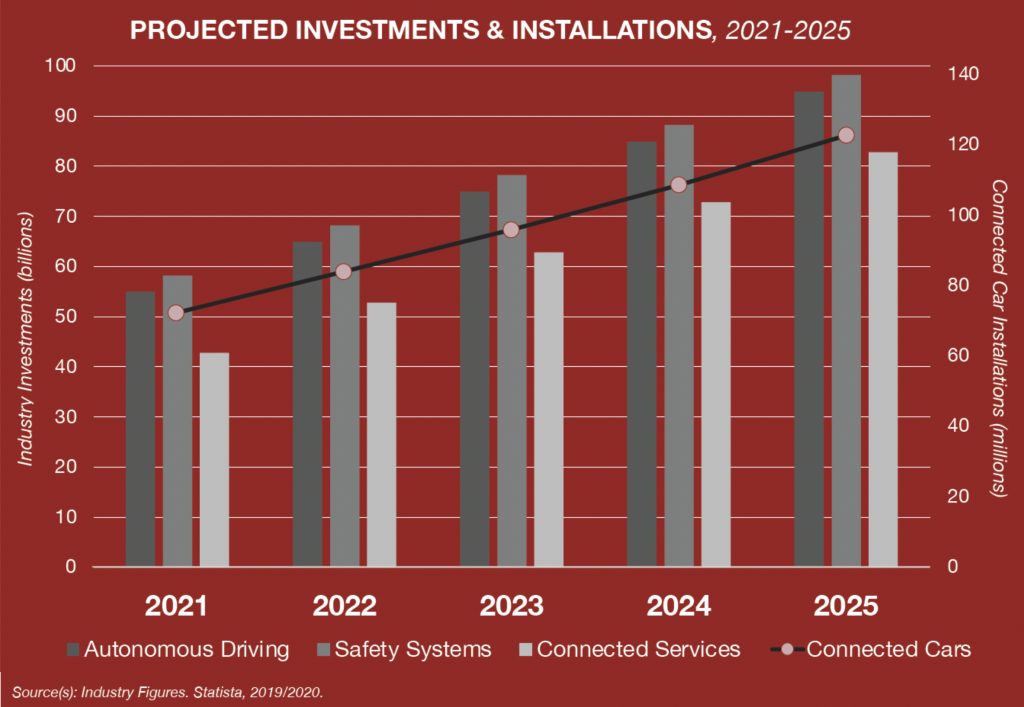 Sources: Industry Figures, Statista, 2019/2020
This IoT-based distribution network will allow for an expansion in hardware, software, and services at an opportunity scale directly analogous to the creation of Apple's App Store – and holds the same attraction for players who can build apps and services to take advantage of this new network of connections – and not just try to sell data that's being created & collected.
OEMs, DEALERS, AND PROVIDERS
OEMs need to plan hardware, software, and services rollouts more like Big Tech – and they need to build pathways for monetization of connected data. They need to champion industry data & ecosystem standards to ensure successful growth trajectories for all participants in connected vehicle ecosystems.
Dealers need to learn what vehicle data they have access to, and how to advocate for more. They'll need to plan for data privacy and adopt new monetization strategies that enhance base offerings by OEM partners. They'll need to understand how data can be used to lift their businesses beyond Connected Car.
Providers need to understand what OEMs will consider 'must-owns' in terms of architecture and infrastructure, what they'll buy from partners, and where they'll choose to innovate & where they won't.
PLAYBOOKS FOR PROFITConnectivity is pivotal to both short-term and long-term success of all ACES trends, so, how can you best position your business to profit from Connectivity?
5 Ways OEMs Can Position:
The opportunities to create value from Connectivity for OEMs are still in their infancy – there are many new ecosystems emerging – and with in-vehicle hardware & software and consumer interest having reached critical mass – subscriptions for apps & services now make economic sense.
Create Internal Benefits

Gather In-field data for product improvement
Develop predictive diagnostics from field data
Deliver OTA repairs & feature updates
Gather in-service customer insights
Create Connected Customer Experiences & Lifetime Value

Provide predictive maintenance (diagnostics & scheduling)
Provide powerful theft prevention & recovery
Safe driver insurance & gasoline rewards
Life-saving accident reporting & crash assistance
Live operators & concierge directions
Create New Business/Revenue Opportunities

Software & hardware OTA updates
3rd party apps & subscriptions (data & infotainment)
Data-based finance and insurance
Create 3rd Party Platform Ecosystems

APIs for vehicle data, control & convenience, infotainment
Data feeds for insurance, fleet management
Connections to fueling, parking, tolling, and road usage
Build Partnerships and Pursue M&A

Build successful partnerships with tech companies
Properly structure deals
Address & protect IP and revenue streams
Profit from data & improved CX through M&A
5 Ways Dealers Can Position:
As it turns out, Dealers are essential for OEMs to realize the full potential value from Connectivity – so they should insist on OEM support for the development of services tailored to their own operations and profitability.
Improve Sales & Sales Support

Connect Ordering & Inventory Data & Location to DMS and CX
Connect Vehicle Location & Usage Data to Demonstration & Sales Processes
Improve Service Revenue Using Connectivity in Delivery & Post Sales Processes
Use Connected Usage Data to Increase Finance & Insurance Revenue
Improve F&I Offerings

Custom financing products that adapt based on vehicle usage and maintenance
Custom insurance products that adjust based on driving behavior
Improve Service Offerings & Reporting

Monitor vehicle performance to optimize service scheduling
Deliver updates and repairs over the air to extend and enhance vehicle performance
Improve Parts & Collision Repair Services

Estimate repairs and order parts from data collected from vehicle sensors
Use vehicle data to reconstruct accidents and determine responsibility
Effectively Identify & Deploy Off-the-Shelf Solutions

Successfully identify the best solutions in a noisy landscape
Profit quickly from technology solution acquisition
5 Ways Providers Can Position:
As OEMs and Dealers reposition, Providers should roadmap unique developments by brand to solve manufacturing, consumer experience, retail, and product feature challenges the OEMs and Dealers are facing.
Be in the Business of Connected Data

Provide Storage & Archival
Provide OTA Software Error Correction & Anomaly Detection
Provide Cloud Processing & Object Extraction
Provide Edge Processing & Endpoint Intelligence
Provide In-Transit & At-Rest Security (Endpoint & Cloud)
Provide Ancillary and Complementary Services & Hardware to the above
Look for Supplier Services & Market Gaps

Consider how products and services can be enhanced or reconfigured as the result of a data connection
Complement OE Product & Feature Roadmaps

Enable connectivity to components and accessories to collect data and enable OTA updates
Prepare for Partnerships

Consider how data will be managed and secured
Consider partnerships with non-traditional players
Partner with connected car ecosystem entrepreneurs
Package for Rapid Adoption

Support OE efforts to develop standards for data
Use standardized interfaces to enable 3rd party development
It's clear that as these ACES trends continue, they will have dramatic impact on the industry's overall ecosystem. It's also clear that Connectivity is the heart of their collective impact. Industry players must begin to position themselves to profit from this foundational trend – to maximize business profitability from Connected Car.
---
If you are a dealer or a manufacturer who is starting to think about how your business and the experience you provide to your customers might be enhanced through Connected Car technologies, motormindz can provide guidance, solutions, and connections to help you navigate this new connected landscape profitably. Fill out our registration form to begin a dialogue to explore solutions to the challenges mentioned in this article, and to get prepared for other current and emerging trends shaping your business' environment, as well as experience some of the latest connected innovations that are driving dealer capability, efficiency, and profitability within this space and learn how you can leverage them to your businesses' advantage, and then follow us on LinkedIn.